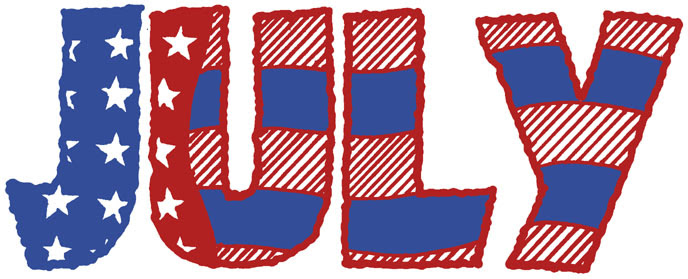 July 1
Hotel del Coronado
Celebrate Independence Day early with our Del Beach Bash for our overnight guests, an annual tradition with live music, bars, fire pits, s'mores and a spectacular fireworks display.
July 1
Independence Day at the Border
Larsen Field - Cesar Chavez Park
Come and enjoy Independence Day at the
Border Celebration in San Ysidro complete with
family activities, live music, drinks, food and fireworks!
July 3
Oceanside Fireworks Show
El Corazon Site at Rancho Del Oro Road
Start off your Independence Day celebration a day early by bringing a beach chair and the whole family to enjoy Oceanside Fireworks Show.
July 4
Mira Mesa Community Park
The Mira Mesa Town Council is honored to once again present the annual Mira Mesa 
4th of July
Parade and Family Fun Day in the Park.
July 4
Old Town San Diego 

July 4th

 Celebration
Old Town State Historic Park
Enjoy an old fashioned 
4th of July
 celebration at 
Old Town 
State Historic Park
 with a parade, crafts and activities of early San Diego.
Wagon rides, period games, patriotic music concert, food specials, pie eating contest and much more are included in this afternoon of family-fun. 
July 4
San Diego Bay
Join over 500,000 people at the Big Bay Boom as San Diego celebrates the 
4th of July
 with the largest fireworks display in the county.
July 4
SeaWorld San Diego
SeaWorld San Diego is excited to light up the sky with an amazing fireworks extravaganza to celebrate the 
4th of July
 with a 15 minute display of fireworks set to a musical soundtrack.
July 4
Julian Town Hall
This year Julian salutes July Fourth with the theme "Old Glory on Parade".  The stars and stripes will move down Main Street during this year's Julian Fourth of July parade followed by live music, a barbecue and more.
July 4
The Spirit of the Fourth
Webb Lake Park - Rancho Bernardo
The Spirit of the Fourth Community Fair is a fun and exciting family event that includes live entertainment, classic cars, a parade and fireworks.
July 4
San Diego County Fair Fourth of July
Del Mar Fairgrounds What better place is there to spend Independence Day than at The San Diego County Fair? Highlighting the day will be the traditional fireworks display.  They pull out all the stops with food, fireworks, entertainment and more.
July 4
Maritime Museum of San Diego
Join us at the Maritime Museum of San Diego for a spectacular 
4th of July
 with some of the best fireworks viewing on San Diego Bay, and the chance to explore one of the most amazing collections of historic ships & exhibits anywhere.
July 4
An Old Fashioned Fourth of July & Fireworks
Old Poway Park

Bring your family and friends and celebrate our country's independence "turn-of-the-20th-century-style" at An Old-fashioned Fourth of July with fireworks.
July 4
July 4
Fourth of July Fireworks at La Jolla Cove
Ellen Browning Scripps Park
Come celebrate 
4th of July
 with friends, family, and fireworks at La Jolla Cove! Come early to find your spot and enjoy some of the best views in San Diego!
July 4
Porto Vista Hotel
No need to spend your 
4th of July
 stuck in traffic or in overcrowded beaches! Porto Vista Hotel has one of the best rooftop views in Little Italy!
July 4
Vista Independence Day Celebration
Moonlight Amphitheater
Celebrate the 
4th of July
 in Vista at the Moonlight Amphitheater with live music, an honorary ceremony, family fun and fireworks!
July 4
Alpine Blvd.
Alpine's old fashioned parade will feature a wide variety of patriotic entries from antique cars to decorated children and everything in between. Enjoy country music, a Deep Pit BBQ and much more.
July 4
Independence Day Festival & Fireworks
Grape Day Park, Escondido 
Join us for the 54th Annual Independence Day Festival & Fireworks with music, fabulous food, and a wealth of children's activities and games.
July 7 - August 4
University Heights Summer in the Park
Trolley Barn Park
Come out to Trolley Barn Park and enjoy an evening of free entertainment during University Heights Summer in the Park concert series.
July 8-9

, 15-16
2017 Annual Over The Line Tourney



Fiesta Island, Mission Bay Park

San Diego's beach softball Over the Line 

Tournament is played by men and women into
their 80's and is one of the last pure Southern
California traditions
July 14-15
Imperial Beach Sun & Sea Festival
Portwood Pier Plaza
The Imperial Beach Sun & Sea Festival will feature world-class sandcastle sculptors, music, children's activities, a Kids 'n Kastles competition, and more.
July 14

, 21, 28
Point Loma Park
Families, friends and neighbors will enjoy a picnic and settle in for free concerts at Point Loma Park. This year's lineup promises to please a variety of musical tastes.
July 15
HILLCREST
The annual San Diego LGBT Pride Parade is among the largest in the United States attracting over 100,000 cheering spectators and significant media participation.
July 15 & 16
Mission San Diego de Alcalá
A weekend celebrating the anniversary of 
Mission San Diego de Alcalá, California's first Missions, with the blessing and ringing of all five Mission bells.
July 19

 ongoing
Del Mar Thoroughbred Club
San Diego horse racing takes place where the 
"turf meets the surf" at the Del Mar Racetrack. Fans flock to the track each summer to wager on their favorite horses during the popular, annual Del Mar Thoroughbred Club racing season.
July 20-23
Convention Center, West Harbor Drive 
This is one of the popular San Diego events and these tickets are already sold out. But join in the fun anyway in the area.
July 22-23
San Diego Botanic Garden
This one-of-a-kind event features thousands of fascinating creepy-crawlies including live insects, lizards, snakes, and the famous "Madagascar hissing cockroaches."
July 28-30
Supergirl Pro
Oceanside Pier
Join thousands of fans to watch more than 100 of world's best female surfers compete and be a part of the Supergirl Pro Festival Village!
We make every effort to ensure the accuracy of this information. However, you should always call ahead to confirm dates, times, location, and other information
 To start searching for your Dream Home Click Here: